Finding solutions to global challenges in water for urban sustainability
The UK has observed an increase in extreme weather events over the past decade. The devastation and distress that flash flooding causes affects the environment, the economy, and the population.
As we grow our cities, we build upon natural drainage systems that can divert water and lead to further flooding.
Sustainable drainage systems are needed to give our cities a method to reduce flood risk.
Solving the problem
Green Infrastructure relieves pressure on 'grey' infrastructure, like pipes, storm drains, and sewers, to enhance drainage of water in the city and reduce or prevent flooding.
The National Green Infrastructure Facility (NGIF) at Newcastle University was created as a 'living laboratory'. Its research underpins Sustainable Drainage Systems (SuDs), Green Infrastructure approaches, and making urban centres more resilient and sustainable for future generations.
As the UK's largest testbed for sustainable drainage systems, the facility provides a blueprint for how our cities should be designed in the future, to reduce the risk of flooding.
Situated in the heart of Newcastle, the swale is fitted with a network of sensors and cameras to monitor flow, water levels, soil moisture, rainfall and other meteorological conditions.
This data is then fed into Newcastle University's Urban Observatory, the UK's largest set of real-time open data, and will be used to inform future flood management and help policy makers and emergency services make decisions in real time if, and when, flooding occurs in the future.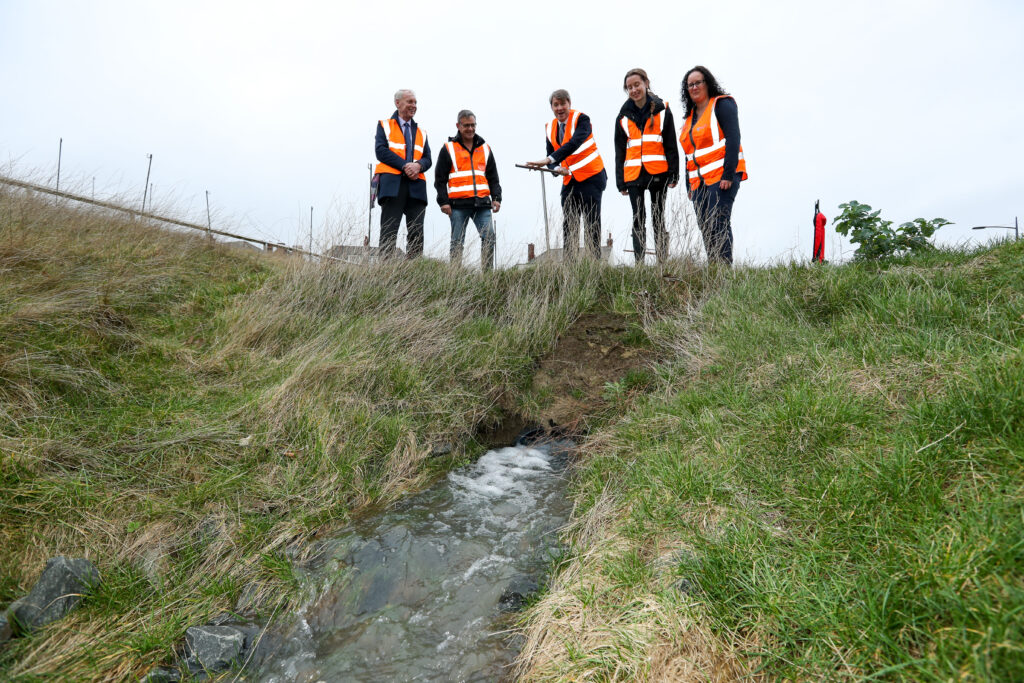 "Flooding can be extremely costly, investment in mitigating floods upfront using green infrastructure can bring a wide range of benefits."

NGIF Co-director Dr Ross Stirling, a lecturer in Geotechnical Engineering at Newcastle University
Key outcomes
Researchers working at the NGIF aim to generate insights into SuDS, developing novel approaches and technologies for improved surface water management, geo-energy for building heating/cooling, urban water treatment and increase our understanding of the interaction between the climate and the urban landscape. Evidence from the design and building of the experiments also contributes to knowledge gaps on upfront investment for interventions and how they need to be maintained over time as well as the cost of doing so.
The facility has been up and running since September 2017.
Photos by: John Millard/Newcastle University