The NHS has set ambitious targets to reach carbon net zero by 2040. Pete Lillie is the Innovation Manager at the Academic Health Science Network for the North East and North Cumbria (AHSN NENC). His work, jointly funded by the AHSN NENC and the Innovation SuperNetwork (ISN), focuses on energy and sustainability to facilitate and translate the NHS's drive to Net Zero. He also looks at the role business and academia have in that drive towards lower CO2 emissions.
"I work closely with local NHS partners to identify where their biggest sustainability issues lie and engage with the NHS supply chain and SMEs to develop innovative solutions to decarbonise NHS services and activities," Lillie said.
AHSNs were set up by NHS England in 2013 to help the NHS, academia, and industry spread innovation at pace and scale to improve health and generate economic growth. There are 15 AHSNs across England, with each one working within its own geographical area to develop projects, programmes, and initiatives that reflect the diversity of our local populations and healthcare challenges.
The ISN gives specialist business support to allow North East entrepreneurs, start-ups and scale-ups direct access to new market opportunities, finance, and sector expertise.
The importance of sustainability and the environment for the NHS
In June 2019, the Newcastle upon Tyne Hospitals NHS Foundation Trust became the first healthcare organisation in the world to declare a Climate Emergency, recognising that a climate emergency is a health emergency. Polluted air is the number one environmental risk to public health in the UK, accounting for 40,000 premature deaths a year.
"Our cities have polluted air – and for a forward-thinking country, that's pretty worrying," Lillie stated.
A contributing factor to polluted air is CO2 emissions. Currently, NHS England is responsible for a total of 4-5% of the total CO2 emissions in the country. This is counter intuitive for the NHS and its aims to improve the country's health.
The carbon footprint of the NHS has been categorised in to 'scopes':
Scope 1 is direct emissions directly owned or controlled by the NHS, such as fossil fuels, facilities, anaesthetics, and fleet and leased vehicles.
Scope 2 is indirect emissions from the generation of purchased energy, mainly electricity.
Scope 3 relates to the indirect emissions involved in the full supply chain, such as producing and transporting goods and services. You also have the users of the NHS, and how they travel to and utilise the services of the NHS.
The three most contributing factors to the carbon footprint are waste, energy, and supply chain procurement. Newcastle Hospitals, for example, recently found that their supply chain represented over 60% of their carbon emissions. The NHS have a limited budget and resources, but they do have large supply chains. Therefore, it is up to the supply chains to look inwardly to see how they can come up with solutions which will then positively affect the footprint of the NHS.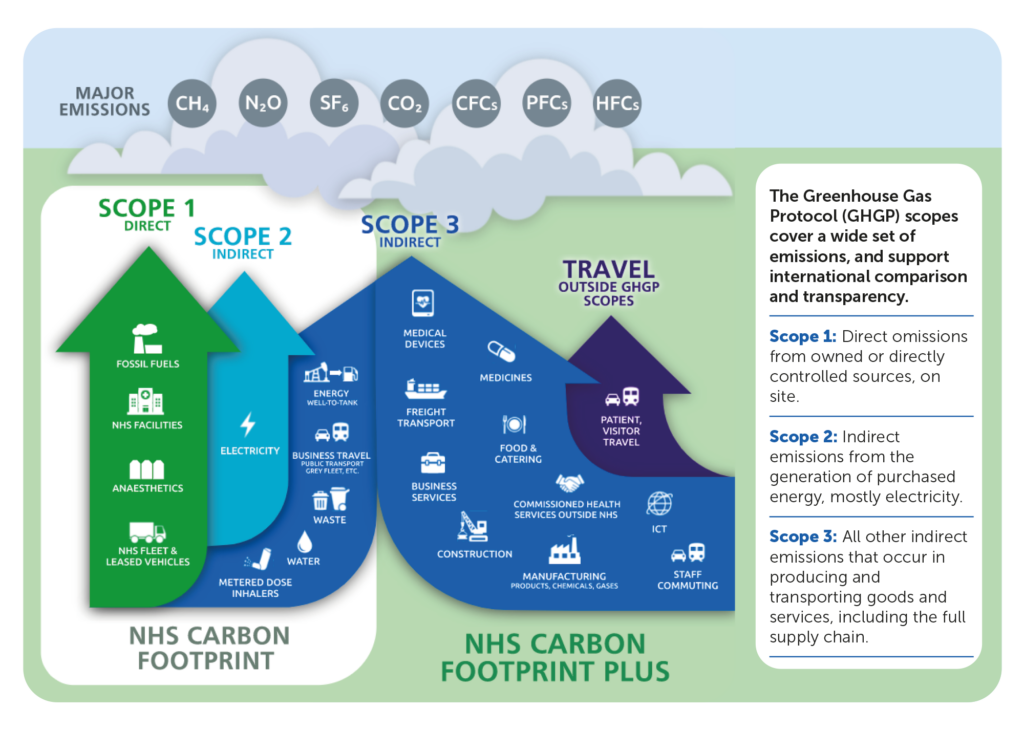 Innovation can help tackle these issues
Innovation is about the short, medium, and long term.
Lillie states, "it's not just about coming up with an innovative idea which will take a long time to deliver, but more about existing solutions that we can apply more innovatively to achieve a net reduction in CO2 emissions."
In the medium term, the AHSN NENC can take an existing solution from one section of the NHS and replicate it in other areas. Long term innovation is all about collaboration. The AHSN and ISN were set up to enhance and deliver strong collaborations within the region to enable these long-term solutions.
The Sustainability Showcase Hub
"The Sustainability Showcase Hub came about because we wanted to create a ripple effect." Lillie explains, "If one Trust does something well, it should be easier for others to replicate it.  Essentially, you can cookie cut that one solution and replicate it with the other Trusts."
The first case study showcased was the SmartCarbon Calculator. The Newcastle upon Tyne Hospitals NHS Foundation chose to use the SmartCarbon Calculator to measure and monitor the emissions from its operations.  However, carbon emissions from the Trust's supply chain also needed to be included to gain an accurate measure of its total carbon footprint. This led the Trust to partner with Smart Carbon to develop a solution.
Case studies will be regularly uploaded to the Innovation Corner of the Sustainability Showcase hub website. The more case studies showcased and shared, the more collaborative our community becomes. By replicating ideas throughout our region and the country, we can shorten the path to reducing our footprint.
VentureFest North East – register for the workshop challenge
Decarbonising the NHS: Striving for Net Zero by 2040
30 March 2022, 13:00 – 14:30, The Boiler Shop, Newcastle upon Tyne
Ran by ISN in conjunction with AHSN, the VentureFest North East workshop challenge aims to bring together people who have already come up with innovative solutions, or who have an idea or a vision.
Supply chain partners/SMEs/innovators/NHS practice managers and innovation leads are invited to provide the opportunity to identify needed solutions, get people in the room talking about partnerships and find out about funding/grants to make this a reality.
"What we want to do with VentureFest is to begin this collaborative nature of working, to ensure we join these dots and translate what people are saying to be relevant for everyone around the table. Our call out is for companies who have these solutions but need them put in front of the Trust and promoting—let's talk and get them delivered," said Lillie.
You can register for the VentureFest workshop challenge for free at https://supernetwork.org.uk/venturefest-north-east/
To find out more, or to share your sustainable solution, contact Pete at peter.lillie@supernetwork.org.uk