NIHR Innovation Observatory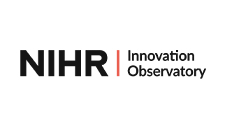 The National Institute for Health Research (NIHR) Innovation Observatory is the national medical horizon scanning facility located at Newcastle University.
Horizon scanning is all in the name: keeping an eye on the future for upcoming change. Understanding future medicines, devices and diagnostics helps shape policy, regulation, approvals and stimulate research activity.
The Innovation Observatory is looking for technologies (Horizon Scanning) that are up to 10 years from being publicly available. The difficulty of course is that not all of these technologies will make it to clinical use. For that reason, NIHR is constantly tracking technologies as they evolve, from patent to patient.
The three core activities:
Technology Briefings: briefings on technologies to different public stakeholders, from those delivering care and research funders stimulating innovation, to policy makers and advisory bodies. 
Advanced horizon scanning tools: an advanced online search engine that allows rapid navigation of different data sources, from clinical trials registries and mHealth apps, to device approvals and academic literature.
Patient involvement: promoting the dialog between innovators, policy-makers and the public by deploying a national online platform for people to learn and help shape innovation. 
The Catalyst, Room 3.12,
3 Science Square
Newcastle Helix
Newcastle upon Tyne
NE4 5TG