National Innovation Centre for Data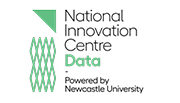 Delivering insights that make organisations aware of the value of data
The National Innovation Centre for Data (NICD) is playing a leading role in addressing the shortage of data analytics skills in the UK through a new groundbreaking facility designed to encourage and create a vibrant eco-system around data science.
A flexible rolling programme of collaborative projects with clients, focused on their specific business challenges and opportunities, is transferring practical data skills into the workforce of private and public sector organisations across the UK.
Engaging with NICD enables organisations to gain insight from their data, allowing them to optimise existing operations and to grow by launching new products and services.
The Catalyst
Newcastle upon Tyne,
NE4 5TG
We use cookies on our website to give you the most relevant experience by remembering your preferences and repeat visits. By clicking "Accept All", you consent to the use of ALL the cookies. You may visit "Cookie Settings" to provide a controlled consent.
Privacy Notice
Urban Foresight Limited is registered with the ICO as an organisation that processes personal data. This privacy notice is in line with the Data Protection Act 2018.
Purpose of processing
Urban Foresight is running the NCLEUS website for Newcastle City Council. The NCLEUS website aims to showcase Newcastle's wide-ranging smart city credentials as part of the Council's vision for innovation.
Data collection
The website uses cookies and Google Analytics to track the performance of the website, and how users engage with the site.
We will only use this data to improve the user experience and the usefulness of visitors to the website.
Lawful basis of processing
Data will be processed on the basis of legitimate interest to provide the services of the website effectively.
Data sharing
Urban Foresight will treat all data with confidentiality and use it only for the purpose of running and improving the NCLEUS website.
Google Analytics will be used on the website. Google processes data 
transfers
 internationally. Google is committed to 
Standard Contractual Clauses
 in accordance with GPDR regarding the international transfer of data.
Rights
Visitors to the NCLEUS website will have all their rights afforded to them under data protection law. This includes the right to know what data is held on them and how it will be used, as well as the right to correct their data if it is found to be incorrect and have their data deleted.
If you would like to review or query your data or it's use, you can contact Urban Foresight's Data Protection Officer at 
hello@urbanforesight.org
. The DPO can also be contacted to remove any data held.